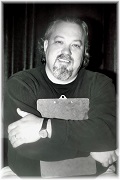 Welcome to the official website of Jeffrey Lovett, author of numerous plays, novels, radio dramas, short stories and children's fiction. Here you can find everything you want to know about Jeffrey, read samples of his writing and get further information.
New Plays by Jeffrey Lovett:
* Simply Divided
* The Worst Play in the World- new for 2015
* The Papers
* The Invasion
* Zombies Don't Run -new for 2013-2014
* The Blood Drive
* Frank
* Zombie Wedding
* Haunted Christmas
* Love on Mars-new for 2013-2014

Jeffrey Lovett Has a New Play for Youth!
The Worst Play in the World now available for Spring 2015 bookings.
The Drama Club at Millard Fillmore High School performs nothing but Shakespeare. No musicals, no light
comedies- just Shakespeare, semester after semester. But when the Drama Instructor announces that the spring play will be Macbeth, the students have finally reached their breaking point. They can no longer put on tights and recite lines they don't understand. They must cure their teacher of her obsession with Shakespeare once and for all. So, they hatch a plan to destroy Macbeth and produce the worst play ever staged. The students rewrite the script and hold secret rehearsals in anticipation of presenting one glorious night of rebellions mayhem. Just as they are ready to take the stage, the Drama Instructor announces that a special guest will be attending the performance- a drama professor from State College who is awarding scholarships to promising young actors. Will the group scrap their plans for mayhem and present a traditional rendition of Macbeth? Or will they go through with their plans to make a mockery of Shakespeare and jeopardize their futures? The Worst Play in the World is an hilarious twist on an old classic that will have former drama students wondering why they didn't think of this first.
Genre: Youth Comedy Mashup
Length: 90 Minutes
Cast: 5 Males, 4 Females
Read a perusal copy of THE WORST PLAY IN THE WORLD by clicking HERE.
Love on Mars Makes Debut at TOSAC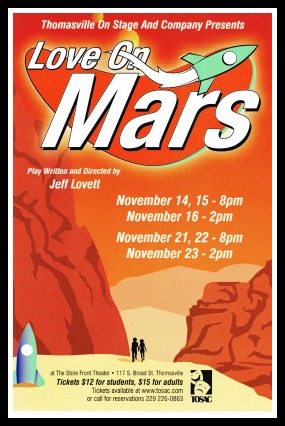 The new comedy, Love on Mars, made it's debut at Thomasville On Stage & Company's Storefront Theater on November 14, 2014
Jeff Lovett's new comedy was met to great excitement during its recent debut at TOSAC. For six nights, the show was sold out and if not for a scheduling restriction, the show would have been held over for another two weekends.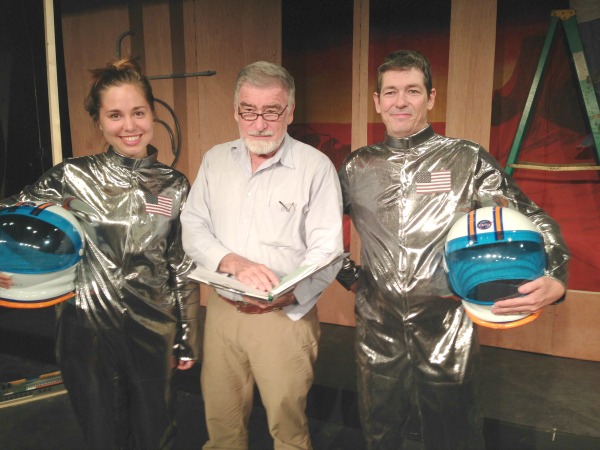 The original cast included TimGreen as Commander Dirk McCoy, Sarah Gardner as Captain Samantha Daniels and Marshall Singletary as the Voice of Mission Control.
Here's a quick synopsis of this hit new comedy:
What happens when two strangers are forced to spend three years together on an alien planet? Why, love of course. Dirk McCoy has been training for nearly a decade to travel and live on Mars with another male astronaut. But when his partner is injured, there's a last minute substitution on the crew. It's not until the two astronauts are already in orbit that Dirk realizes that his crew mate is a woman. Dirk has never had much luck with women and has no intention of spending the next four years trapped inside a space capsule and then the tiny Mars base with a female. But it's too late to turn back. Dirk tries his best to hate his crew mate, an attractive scientist named Samantha Daniels, but the loneliness of space takes it toil and the two fall in love. It seems like the perfect union, just the two of them alone on an alien planet, but the passion soon wears off and the two astronauts begin to hate each other all over again. Dirk and Samantha decide to split upon their safe return to Earth, chalking up the romance to the loneliness of space. But then NASA cancels the Mars Mission. There will be no return to Earth. The two are now marooned on the alien planet and will grow old together in the small Mars base. That is, if they don't kill each other first.
Cast: 1 Male, 1 Female, 1 Voice-Over Actor
Length: 100 Minutes
Read Love On Mars now. Just click here.
Read More About Jeffrey Lovett on www.hitplays.com
Author Jeff Lovett Attends Florida Debut of Simply Divided
Jeff Lovett recently attended the Florida debut of his play, Simply Divided, at the Lake Wales Little Theater on January 10th. The show was a great success and ran for three consecutive weeks to standing room only audiences. Thank you to Director Ken Bledsoe and the cast for a great show and for inviting Jeff to be there for the Florida premier of his hit comedy.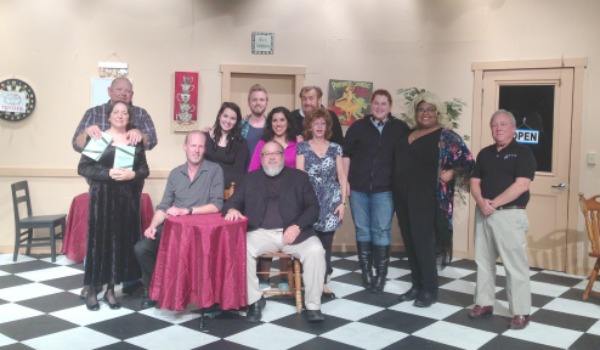 Jeff Lovett (seated center) with cast of SIMPLY DIVIDED at the Lake Wales Little Theater.
Simply Divided is Becoming One of the Most Popular News Plays Being Performed in Community Theater Across the U.S.
Jeffrey Lovett's play, Simply Divided, has been picked up by more than a dozen community theaters for performance in the coming year. This hilarious 'Southern' comedy has now been performed in Georgia, Alabama, Florida, South Carolina, North Carolina, Virginia, New York and California. If you are looking for a great play to anchor your season, request your free perusal script by click here.
Simply Divided being performed at the Gallery Theatre in Ahoskie, NC.
Simply Divided at the Gallery Theater in Ahoskie, NC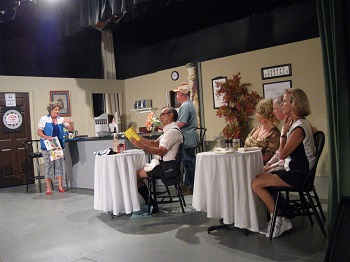 Simply Divided being performed in Charleston, SC
Simply Divided being
performed to a sold
out house in
Charleston, SC