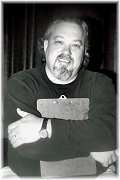 Jeffrey wrote his first 'real' play while studying journalism and theater at the University of Georgia in the early 1980s. The play, now lost, was called Bomb Shelter and told the story of five people of different backgrounds and ethnic groups who hurry into a bomb shelter in New York when they hear a siren announcing an incoming nuclear weapon. Slowly, the group of strangers go insane from not knowing what is happening to their loved ones who were left exposed and because of the tensions created by stong personalities. The play was performed at the UGA School of Theater to great reviews. Sadly, the script for the play was packed into a box and lost in a house fire while Jeffrey was still in college.
Since that first play, Jeffrey has written more than twenty full length and short plays. He publishes his plays for youth theater through Heuer Publishing Company and the plays that he has writeen for professional/community theater through his own company, Summerhill Publishing.
One of Jeffrey's greatest joys as a writer is to attend the performances of his plays when performed within travelling distance. Along with attending the show, Jeffrey often takes time to speak with the cast and audience about the show, the process of his writing, how to become a published playwright and how to develop ideas for new plays. If you would like for Jeffrey to come speak to your group about playwriting, just send an email with the dates to: [email protected]
Click on the links to the right to learn more about Jeffrey Lovett's extensive collection of original plays.