The Papers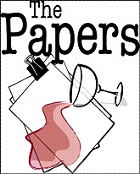 Harvey Ruttles has been waiting his entire life to inherit a fortune. A fortune that he doesn't want. His wife, Peggy, has been waiting, too. And she wants the money very badly. In fact, that's the only reason she married Harvey. The day finally arrives when Harvey's father passes on. Now all that Harvey has to do is sign the papers and he and Peggy will be rich beyond their wildest dreams. But first, Peggy has planned a little celebration. The champagne and caviar is just the beginning of the new life that Peggy has planned for her and Harvey. A life filled with fancy cars, vacation homes, furs, diamonds and trips to exotic destinations. How was she supposed to know that Harvey would choke to death on a piece of imported ham? Without Harvey's signature on the inheritance papers, Peggy has nothing. Her dreams of the "good life" are about to be shattered- unless she can convince everyone that Harvey is still alive. For that, she'll need the help of her sister, Darlene. What follows is the hilarious tale of how the two sisters try to convince everyone in their small town- the minister, Harvey's co-workers, the neighbors and friends- that Harvey is still very much alive. All they have to do is somehow manage to get Harvey to the memorial service and get his signature on those papers.
The Papers is an original comedy that made its premiere at Storefront Theatre in Thomasville, Georgia in February 2009. The fast-paced comedy was written by Jeff Lovett who will also directed the first public performance of the play.
Cast: 6 Adult Males, 5 Adult Women, 2-3 extras
Running Time: Approximately 140 minutes
Sets: This is basically a one-set show- a Living Room Set with two doors and a short staircase. For the final scene, the Living Room is transformed into the Chapel of a Funeral Home by simply pulling a black curtain across the back of the set and removing the furniture.
Costumes: No special requirements. Contemporary street clothes for every scene.
Props: No special props required.